5 Floors for you fitness
Discover our offer
Pool & Boxing
In the pool you can let yourself go perfectly after a strenuous workout. The adjoining garden invites you to sunbathe and relax on the loungers.
Punching bags, pads, punching balls and a boxing ring of the highest quality: the ultimate boxing experience in the Manhattan Boxing Lounge!
Wellness & movement
Relax in our spacious wellness area with Finnish sauna, bio sauna, exclusive ladies' sauna, steam room, infrared cabins and solarium.
The Pure Movement Room is available for your individual mobility and fascia training. A stylish atmosphere and competent advice from the trainer team.
Performance
Faster, better, stronger. The Performance Room offers only the best equipment for your athletic training goals: a 15-meter-long artificial turf, battling ropes, jump boxes, power plate
Functional fitness & 
studios
The Functional Fitness area with TRX station, medicine balls, kettlebells and much more enables a new dimension in strength training and ideal conditions for your performance.
Whether dancing, yoga, cycling or back fitness, in our 3 studios you will find exactly the equipment you need for your group workout.
Strength & cardio
More than 100 machines and a large selection of dumbbells and barbells that leave nothing to be desired in your individual strength training.
Our cardio areas offer everything to strengthen your endurance: ergometers, treadmills, rowing machines and cross trainers. With lots of space and choice.
Here you will also find our unique 114-meter indoor running track!
Can we give you a hand?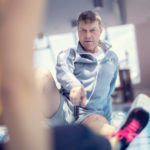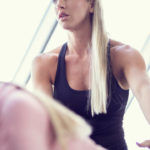 Over 30 excellently trained and experienced trainers individually take care of you in Manhattan.
Would you like to do something together with us?
Five Tibetans
Exercise sequence of 5 different postures. Move in harmony with your own breath, revitalise the body's energy balance. Well-being for body and mind.
Carribean Dance
A dance session that reflects the joie de vivre and movement of the Caribbean. Dance away everyday stress, recharge positive energy.
Antara
Calm, efficient strengthening, conscious breathing. For a beautiful posture and a strong center.
Ballett Barre Workout
Classical ballet positions combined with elements from Pilates and yoga, trained on the ballet barre. Through small, targeted movements to trained, supple muscles and a wonderful upright posture.
Cardio Toning
Endurance and strength merge into one. Reduction of body weight, muscle definition & pure powering out!
Cycling
Group training on the indoor bike. Motivating group dynamics, rousing music, intensity well adjustable.
Core
Strengthening the muscles of the trunk for a stable muscleCOREsett. Mercilessly effective!
Pure Athletic
Intensive training session in a small group for advanced athletes. A must for all athletes!
Latin Mix
Simple basic steps, great music, pure joy of life. The cardio dance training for everyone.
Pump it up
Barbell training for all major muscle groups. Precise instruction, regular, systematic weight increase – effective hypertrophy training.
ABS-Attack
Strengthening of all abdominal muscles, activation of the deep stabilizers, washboard instead of raccoon belly in 20 minutes!
Oriental Dance
Flowing movements to beguiling music. Immerse yourself in 1001 Nights. No previous knowledge necessary!
Pilates
Holistic method for strengthening and stretching the muscles with a focus on the trunk muscles, the so-called "powerhouse".
Thairobix
Martial arts elements combined with classic endurance and strength training. The focus is on endurance (CARDIO), technique (TECHNIQUE) or both (COMBO).
Strong Back
Functional, precisely guided exercises for more stability, mobility and a beautiful posture. Pain-free, upright and ready for everyday life.
Thai boxing
Modified from Thailand's Muay Thai. Endurance training, muscle building, self-defense – the superlative martial arts!
Qi Gong
Breathing, movement and meditation exercises in accordance with traditional Chinese medicine. Release energy blockages, stimulate regenerative power, physical and mental strengthening.
Body Shaping
Classic strengthening lesson for strong muscles, resilient bones and endless energy. Optionally with dumbbell, tube, step and other aids.
Salsa
Latin American rhythms, simple step combinations, Salsa makes you fit and in a good mood. Entry possible at any time, addictive factor: high!
Yoga
From Ahstanga to Vinyasa: use yoga to reduce everyday stress and recharge your batteries. A beneficial mixture of exercise, relaxation and meditation.
Aqua Fitness
Intensive full body workout in the water. Relief of the spine, better blood circulation of skin and connective tissue.
Zumba
Dance workout to improve endurance and coordination. Simple step combinations, great fun factor!
Tabata
A variant of the H.I.I.T. workout. 20 seconds of peak performance, 10 seconds of recovery. For burning fat, building muscle and increasing stamina.
Training is good. Control is better.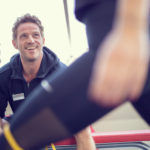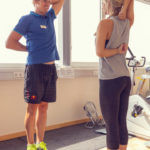 This is why your Manhattan membership begins with an in-depth analysis. From this, we develop a customized exercise program together.
Let's get moving again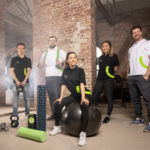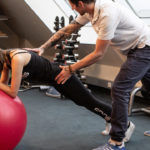 Whether posture problems, pain or rehabilitation: with physiotherapy, osteopathy and training therapy, we will get you back in shape.
Hours of operation
Monday to Friday: 6:30 a.m. – 11:00 p.m.
Training until 10:30 p.m.
Saturday, Sunday & holidays: 8:00 a.m. – 10:00 p.m.
Training until 9:00 p.m.